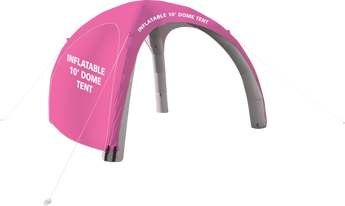 Inflatable 10' Dome Tent - Sidewall Only
Regular price $ 450.00 Sale
The Inflatable Dome Tent is great for any outdoor event. With included air pump, the tent inflates in less than 10 minutes providing a fun way to draw in a crowd.
Standard Features & Benefits
- Sidewall Only. For complete kit, click here.
- Printed sidewalls are water and UV-resistant
- Enclose your tent with up to 4 printed panel walls
- Must have canopy with zippers for desired walls.
- Six month graphics limited warranty
Need Design?
- Design services are available for $50 per hour.
Templates
- Inflatable 10' Dome Sidewalls