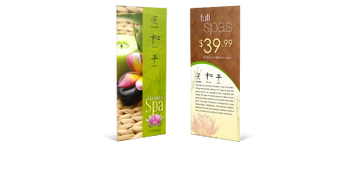 4" x 9" Rack Card
Regular price $ 60.00 Sale
Rack Cards are an excellent way to convey information quickly and cleanly. These are great to display anywhere there is heavy foot traffic. Hotels, tourism boards, chambers of commerce, trade shows and expositions are just a few places where rack cards can become an invaluable tool. They are a cost effective way of spreading your company's information and reaching customers.
To order multiple sets, please adjust the quantity selector.
For higher quantities per set, please contact us.
Need Design?
- Design services are available for $50 per hour.
Templates
- 4" x 9" Rack Card