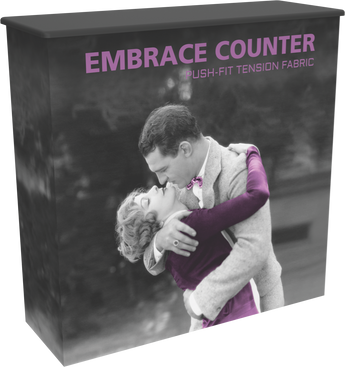 Embrace Counter (Graphic Only)
Regular price $ 195.00 Sale
EmbraceTM is a sleek collapsible portable display that delivers style with minimal effort. Embrace Fabric Displays come in a variety of sizes and is offered with or without endcaps. Embrace requires no tools for assembly, is lightweight and highly portable. It packs away as easy as it sets up!
All Embrace kits come a carrying case case.
Standard Features & Benefits
- Assembled Size: 40.95"w x 40.23"h x 14.95"h
- Graphic Only. For Complete Kit, Click Here.

Need Design?
- Design services are available for $50 per hour.
Templates
- Embrace Counter