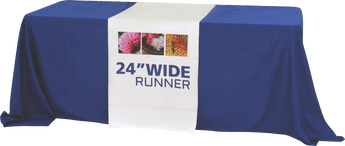 24" Premium Printed Table Runner
Regular price $ 70.00 Sale
Complete your presentation with a dye-sub printed table runner. The 24" Premium Printed Table Runner is perfect for events in tight spaces and for those who need to have a branded cloth on hand when opportunities arise.
Standard Features & Benefits
- 6 months graphic limited warranty
- Available in Full and Economy (No Back)
Optional Upgrades
- 4 Throw Carrying Bag
Need Design?
- Design services are available for $50 per hour.
Templates
- Standard Template
- Economy Template