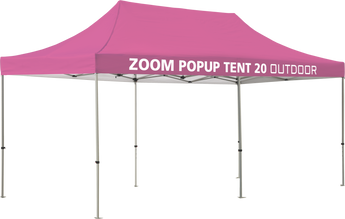 20' Popup Tent - Printed Canopy Only
Regular price $ 1,200.00 Sale
The Zoom Tent is great for outdoor fairs, exhibitions, sporting events and arenas, concerts, festivals and more. Strong, solid, stable, wind-resistant & durable. Graphics are long-lasting and can endure exposure to outdoor elements. Polyester canopies are water resistant and UV-resistant, providing the ultimate protection from the sun. Coverage area shades up to five people comfortably.
Standard Features & Benefits
- Includes Custom Printed Canopy only
- Opens to base size of 19.6'w x 11.25'h
Need Design?
- Design services are available for $50 per hour.
Templates 
- 20' Popup Tent