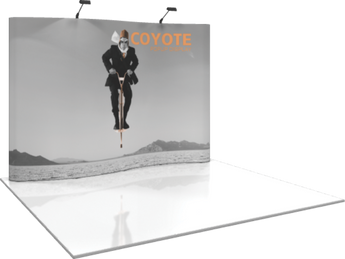 10ft Serpentine Coyote Popup Graphic Mural (Graphic Only)
Regular price $ 775.00 Sale
The Coyote popup display system combines strength, reliability, and style in a lightweight and easy to use system. It is fully magnetic, making it simple to assemble and disassemble, and is available in a wide range of sizes and configurations. 
All Coyote kits come a protective, plastic, wheeled, molded case.
Standard Features & Benefits
- Assembled Size: 125.25"w x 87.56"h x 21.63"d
- Graphic Mural Backdrop and End-Panels Included
- Graphic Only. For Complete Kit, Click Here.
Need Design?
- Design services are available for $50 per hour.
Templates
- 10ft Serpentine Coyote